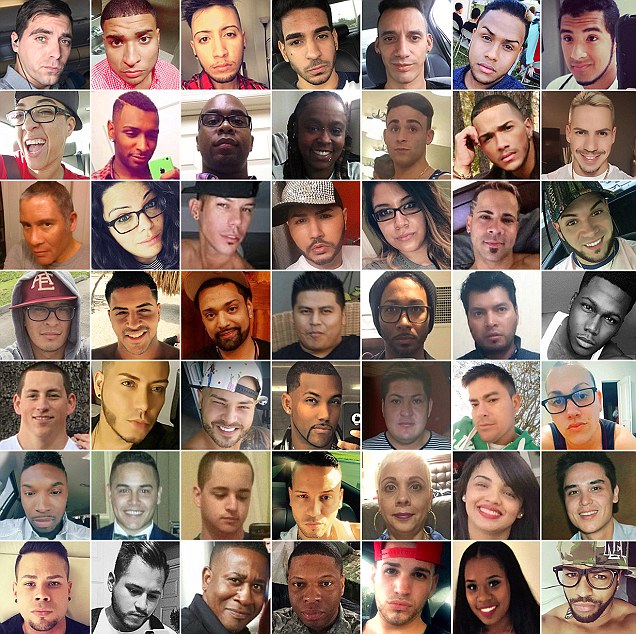 Victims of the Orlando False Flag Massacre
Tom Heneghan Update - June 14, 2016
UNITED States of America - It can now be reported that the dots have been connected: the 9/11 FALSE FLAG aka George W. BushFRAUD's Hitler-style "Reichstag Fire" and the early morning June 12th Orlando, Florida Obama-Clinton-DHS homosexual-lesbian FALSE FLAG PsyOp.
Continue Reading Full Report at .....
http://www.tomheneghanbriefings.com/Orlando-Florida-Obama-Clinton-DHS-Homosexual-Lesbian-FALSE-FLAG-PsyOp__06-14-2016.html
**************************************************
Abel Danger Update - June 14, 2016
1.
Abel Danger
(
AD
) claims that Hillary Clinton has deployed long-range 8(a) companies since 1994 to destroy evidence of murder for hire at crime scenes controlled by radical feminists in DOJ Pride with their sexual partners in ATF, BOP, DEA, FBI, USMS and OJP.
2.
AD
claims that in 1993, David Cameron outsourced Zulu time signals to a death-bet bookmaker service at White's Club (Fd. 1692) so Clinton could synchronize the ATF murders, body counts, media plays and tainted investigations at the Waco siege in 1993.
3.
AD
claims that Cameron's UK Cabinet Office used
Serco
to stage a Command Post Exercise for Clinton
feministas
crime scene where 50 gay men were spot fixed by Omar Mateen – an ISIS Crisis shooter in Orlando employed by UK security company G4S.
Continue Reading Full Report at .....
http://www.abeldanger.net/2016/06/2694-clintons-long-range-8a-pride.html
**************************************************
Jim Feltzer Update - June 14, 2016
The "worst mass shooting in U.S. history" is reported to have occurred between 2 am and 5 am on Sunday morning, June 12, at Pulse, a nightclub in Orlando, Florida. The "act of terror" is said to have produced 49 dead and 53 injured. A 50th death was that of the "shooter," identified as Omar Seddique Mateen, who was employed as a security guard since 2007 by the giant multinational security company G4S. The circumstances of the Orlando "massacre" are suspicious to say the least, with many details fitting into the existing playbook for staged shootings occurring across the U.S.
G4S, the world's largest security company by revenue, has its US headquarters in Jupiter, Florida, but operates in "more than 100 countries," with "more than 50,000 employees in the United States." G4S "has the international reach and resources to meet the security needs of the global age."[1] The company has expressed its condolences over the tragic event and is cooperating "fully" with the FBI and other agencies who are investigating the "unspeakable tragedy."
Continue Reading Full Report at .....
http://jamesfetzer.blogspot.com/2016/06/orlando-questions-and-anomalies.html
**************************************************
Alex Jones Update - June 14, 2016
BREAKING! Hillary Blocked Investigation Into Orlando Killer's Mosque. Just like San Bernardino; State Department stopped terrorist investigation
Continue Reading Full Report at .....
http://www.infowars.com/breaking-hillary-blocked-investigation-into-orlando-killers-mosque/
**************************************************
Justin Deschamps Update - June 14, 2016
Initial rounds of research and investigation in regard to the Orlando shootings which took place at the Pulse nightclub early Sunday morning are pouring in.
There are two items of interest to present in this brief article.
But before we begin, the fact that the media is using this tragedy to further the globalist agenda in and of itself is enough to say it is a false flag. That's what a false flag is, an event wherein governments or other groups use a crisis to further a political agenda.
Continue Reading Full Report at .....
http://sitsshow.blogspot.com/2016/06/Orlando-Shooting-Survivor-and-Actor-Luis-Burbano-Holds-Exit-Door-Shut-as-Victims-are-Gunned-Down-and-Victims-Carried-Towards-Club-Suggest-Staged-Media-Coverage.html
**************************************************
Michael Snyder Update - June 14, 2016
The following are 17 facts about the Orlando shooter that every American should know…
#1
According to the Director of the FBI, Mateen had "
links to al-Qaida, Hezbollah, and the Islamic State
".
#2
Mateen's father has openly expressed support for the Taliban
on YouTube
.
#3
Despite those links to terror organizations, Mateen was allowed to work "
as a security guard at a local courthouse
".
#4
Mateen wasn't directly hired by the courthouse. Instead, he was officially an employee
of the largest security services company in the world
…
Continue Reading Full Report at .....
http://www.zerohedge.com/news/2016-06-13/17-facts-about-orlando-shooter-every-american-should-know
**************************************************
Sorcha Faal Update - June 14, 2016
A grave Ministry of Defense (MoD) report circulating in the Kremlin today states that President Putin's order this morning to begin a massive snap inspection of the Russian Armed Forces in order to assess combat and mobilization readiness was based on an emergency Security Council (SC) briefing wherein the Foreign Intelligence Service (SVR) warned that the Orlando Massacre false flag event orchestrated by Hillary Clinton and her allies was unraveling so fast the Obama regime will soon have no choice but to launch a major war in order to distract the American peoples attention away from what is turning out to be one of the largest state crimes ever perpetrated in the United States.
Continue Reading Full Report at ..... http://www.whatdoesitmean.com/index2056.htm