The Veterans Today / RT / PressTV Disinformation Conglomerate (Part 3 – Gordon Duff's "Adamus Group")
While I await information to be used in a coming article about the circle of fraudsters who promote the Leo Wanta nonsense, I thought I'd go ahead and address Gordon Duff's supposed company, the "Adamus Group." When I first started looking into Adamus, it appeared to be entirely imaginary. I could find no indications of its existence except for a few online items which Duff himself had posted. And the only concrete Adamus project of which I could find mention was a blimp proposal in Africa. So to begin our journey through Adamus, let's start there…
Full of Hot Air: Gordon Duff and his Blimps
In a 4 September 2012 Veterans Today article titled
Africa: Adamus To Begin Skyship Survey of Wildlife/Climate Change
, Duff makes the following claims…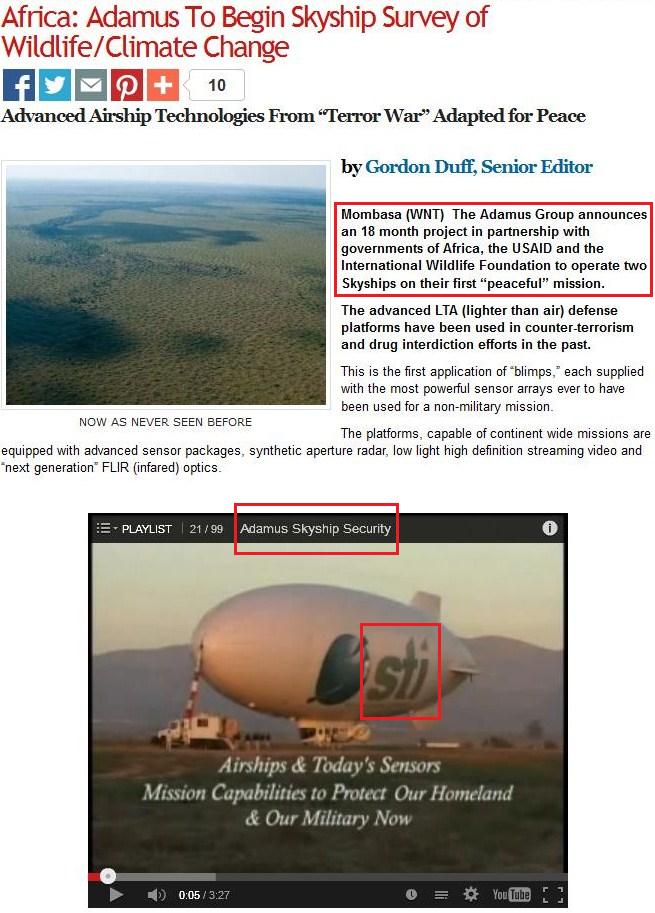 Setting aside, for the moment, what the real agenda might be for putting a military surveillance airship over Africa,
have a look at the video
attached to the article. To create it, Duff appears to have purloined an old promotional video from
Science & Technology International
(STI), a Honolulu-based defense contractor
that operated airships
prior to May 6, 2004 (when it was bought-out by BAE Systems), and injected an old CNN video into the middle of it. In the news crawler at the bottom of the CNN video, a reference is made to
Typhoon Etau
striking Japan, and that happened in 2003. So both source videos are quite dated.
Despite the fact that Adamus had nothing to do with either video, Duff slapped them together and titled the resulting video "Adamus Skyship Security" to create the impression that Adamus was involved. But I've found no evidence that Adamus ever had a formal contractual relationship with STI. Therefore,
Gordon Duff's purpose in creating and posting this video seems to be to impress his readers and make it look like Adamus was/is actually active in the airship industry.
I also came across another questionable airship video of his
here
…