Devices, made public by the chief army engineer, are dismissed by experts around the world and called 'shocking to scientists'
Associated Press in Cairo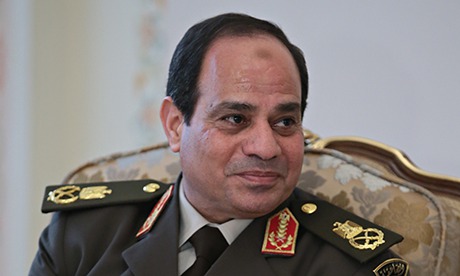 Egypt
's military leaders have come under ridicule after the chief army engineer unveiled what he described as a "miraculous" set of devices that detect and cure Aids, hepatitis and other viruses.
The claim, dismissed by experts and called "shocking to scientists" by the president's science adviser, strikes a blow to the army's carefully managed image as the saviour of the nation. It also comes as General Abdel Fatah el-Sisi, who toppled Mohammed Morsi in July after the Islamist leader ignored mass protests calling for him to step down, is expected to announce he will run for president.
The televised presentation – which was made to Sisi, the interim president Adly Mansour and other senior officials – raised concerns that the military's offer of seemingly inconceivable future devices will draw Egypt back into the broken promises of authoritarian rule, when Hosni Mubarak frequently announced grand initiatives that failed to meet expectations.
"The men of the armed forces have achieved a scientific leap by inventing the detecting devices," the military spokesman Colonel Ahmed Mohammed Ali wrote later on his official Facebook page. Ali said a patent has been filed under the name of the Armed Forces Engineering Agency.