https://projectcamelotportal.com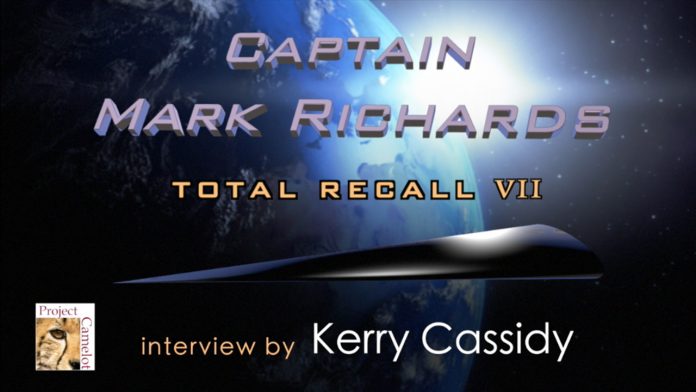 This is my seventh interview with Captain MARK RICHARDS the publishing of this 'total recall' has been delayed due to traveling.
Conducted August 2017, published September 20, 2017.
https://youtu.be/PBZjr1E6dgs
Note:  This interview time was shorter than usual.  Only had 2 hours…. Didn't get many of my questions answered.  Remaining list of questions sent to Mark after the interview.
I was not allowed a pencil or pen this time... I was just given childrens crayons to take notes which made it hard however I persevered and got fairly detailed notes which are posted below.
NOTES
STATUS
Mark had some news related to being moved from his current cell however there is no clear information on where or when at this time.
CLARIFICATION ON MILITARY STATUS / ARMY / NAVY
Jo Ann (his wife) asked him a question she needed clarity on because of something someone at a recent talk had questioned.  Mark clarified that he was in the Army originally (at the age of 16 and younger.  This is similar to William Tompkins as he was spotted in part due to his father and grandfather (who both worked with Tesla) and recruited into Army.
After Vietnam he went from being a Lieutenant in the Army to being a Lieutenant in the Navy.... a lateral move.  After Vietnam lots of men were being shipped out of the Army who then had no use for them.  Many moved to Navy.  The Air Force had no need a Mark's services after the war because he was a helicopter pilot in Vietnam and they had plenty of pilots back then (after the end of the war).
He was also seen as an asset to the Army and the Navy because his best friend was/is a Raptor and they often went on missions for the military.
CURRENT RUMORS OF END OF WORLD SCENARIOS / CATACLYSMS
Mark feels he would definitely be warned by his Raptor friends (who are quite telepathic -- as is Mark --see interview 6 for more on this) if anything were impending of a monumental nature.
He thinks there is more of a threat from "nutcase" humans than from Earth changes.  He thinks government are also worried about this.