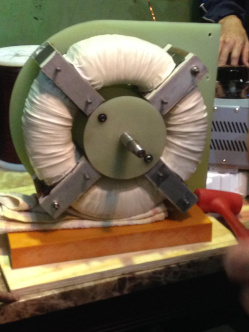 "If you Build It, and Give it Away, They will come." QEG Full Disclosure.
Open sourcing the plans for the QEG was a turning point for all of us. Now that the cat's out of the bag, we would like to take this opportunity to fully disclose to The People the full background story behind the last 6 months. We could not speak about much of this before we open sourced as we had to protect our family, our energy, and maintain the integrity of what we were trying to do.
The Results in the First Week:
In the first 24 hours 20,000 people downloaded the QEG plans. Since then it has gone so viral it is hard to get an accurate count. The manual has been posted on many blogs and is thoroughly spread through all forms of social media. So far the manual has been translated into German, Italian, Japanese, Swedish and soon Chinese and Spanish.
Websites are being created with forums to help spread and share information. Here is one of them, and so far there is a lot of up to the minute info being posted here:
http://be-do.com/index.php/en/
We also have a skype chat room called QEGNetwork where many have gathered to post and share questions. Here is a link to this room, you need to have skype on your computer and you need to have your own skype account to sign in:
skype:?chat&blob=N-skpVBnysb-jjDWhpeDfZAunrEsqqdmcYmSdNEhCt79 T3gTuq3uGtGSvziq13ATcBEwhZ81SPwhbJ1sHsae1ku_ecFXHhPGqCp7wKV Ky7j9Z6j_ffUf0SuAsUwgPKuWhjdznSvWEo1a5EffkCsHA948VzvwaCPbc6D huuSELHMjHyJBTCnms6G62GV3raMa3etBfG70pIa_C3Ee9D-T89eFh8WRRyOnHZhe
We would ask for people with website skills to create networking websites so that CICU's all over the world can connect and speak with each other. This is important to help with troubleshooting, and sourcing the parts. We need to spread this knowledge fast and help groups to find each other.
Immediately after open sourcing the Fix the World QEG family attended a Prepare for Change Cobra conference in Taipei. We showed a presentation video of the QEG working prototype. Many who attended that conference are spreading the QEG knowledge all over the world. Cobra and his contacts from the light forces came to the factory where we are building QEGs to observe the operation for themselves. They are very impressed and we have the full backing and support of the Resistance Movement. Plans for larger scale production and parts sourcing are underway.
Teams of engineers are forming in more countries than we can count to build QEG's. Our first hands on experience is here in Taiwan with a group of engineers, many of which came from China who plan to bring the knowledge back to China. These "Men of China" have spent a small fortune and waited for a month just to get Visas to be here in Taiwan for QEG training. They have raised a large sum of money to begin QEG production in China. We were told from a high level contact that the QEG plans will be shared with 5,000 engineers in China who will be making as many innovations on the QEG as possible and open sourcing the plans for each one.
Already we have seen plans for improvements and innovations to the QEG, the engineers of the world are taking full creative license on what can be done once you have achieved an over unity power source. Many are very excited.
One of our suppliers Torelco, is extremely excited about the high demand for processed cores, and many orders have been placed in the last week from all over the world. They are rearranging their workforce to handle the demand and working to get the best possible price for people. They are charging $3,000 for the complete processed core which is a great price, and does not include shipping.
We recommend Torelco for purchasing a finished core which includes laminated steel core and rotor, all mica components, magnet wire, sleeving, spacer blocks, mylar tape and outerwrap tape, 8 inch through-bolts, nuts, washers, Nomex corner insulation and toroidal winding. Since open sourcing, we have learned that our other supplier, Polaris, will charge you double for the bare generator sets. Torelco will give you a much better price for a bare core as well. As FTW continues to roll out the distribution plan, and more connections across the world are made, we think CICUs will be commonplace and hence, QEG parts will be more accessible (many people will be making them!)
Please Watch for Updated User Manuals as development progresses. They will be here:
http://www.fixtheworldproject.net/qeg-open-source-documents.html
A Special Note to those who cannot afford the parts to build a QEG.
We understand and are doing the best that we can to find cheaper parts and come up with creative ways to help make QEG's more affordable. Some of these ideas are sponsorship programs, donated QEG's to people in need, crowdfunding campaigns where people can pool their resources to buy the parts, and much more. This is all still very new, and in just a little more time (probably about 2-3 months) the people will have enough time to put together systems and manufacturing structures that will make them more affordable. In the meantime, there are many that do have money and the right intentions to build QEG's. They are helping to bring this out. And since no one owns the QEG, it is available to all, and will become more accessible over time.
FTW Next Steps for QEG
We are getting more questions than we can answer individually, and we want to help as much as we can. To help with this information flow we will be doing a free weekly radio show with James Robitaille and HopeGirl on Mission I'm Possible Radio called "Ask James about the QEG". Here, people can call in or send questions that James and Hope will answer on the air. The shows will be archived, and we will find a transcriber to type out all of the Questions and Answers and post them in forums for others to find the answers they need. Check the radio station for scheduled show times:
http://www.blogtalkradio.com/expandinguradio
Hope will be travelling to London to give a QEG presentation at the Alchemy Event Conference on April 11. While in London, she will also be meeting with Sacha Stone and other members of the truth movement and New Earth Nation to collaborate bringing free energy to the world.
Our next QEG training and building will be in Aouchtam, Morocco at the One People's Community. Many want to come to see the operation for themselves. Brian Kelly will be organizing travel accommodations. If you would like to join us in Morocco please contact Brian Kelly:
http://briankellysblog.blogspot.tw/
There are many other trips and requests planned for the near future, including Peru in June. We will continue to travel as much as we can, as hands on learning is the most effective way to pass on the knowledge. However, at this point it is one of our main concerns to put together a global 'train the trainer' program. This would involve training engineers to build QEG's and showing them how to train others. This way the information can spread much faster and more efficiently. Part of this program would be to strengthen our organizational structure so that we can handle the increased workload.
FIX THE WORLD PUBLIC STATEMENT:
We are not in the prove it business, we are in the do it business. We are doing the work, teaching others how to do it and showing the process so that it is available to all. The most important thing is to get this technology directly into the hands of the people, which is what we are doing. Our working prototype will be proven to the world through the people who believe in free energy enough to do the work needed to bring it out of suppression. Therefore the people will be the ones to make the announcements, which will be more effective, and the people will get all the glory.
130 years ago, Nikola Tesla designed an over unity fuelless generator that could provide enough power to power your home. This technology was heavily suppressed as a way to control the