By Pam Martens: December 16, 2014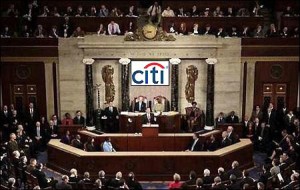 Citigroup is the Wall Street mega bank that forced the repeal of the Glass-Steagall Act in 1999; blew itself up as a result of the repeal in 2008; was propped back up with the largest taxpayer bailout in the history of the world even though it was insolvent and didn't qualify for a bailout; has now written its own legislation to de-regulate itself; got the President of the United States to lobby for its passage; and received an up vote from both houses of Congress in less than a week.
And there is one more thing you should know at the outset about Citigroup: it didn't just have a hand in bringing the country to its knees in 2008; it was a key participant in the 1929 collapse under the moniker National City Bank. Both the U.S. Senate's investigation of the collapse of the financial system in 1929 and the Financial Crisis Inquiry Commission (FCIC) that investigated the 2008 collapse cited this bank as a key culprit.
The FCIC wrote:
"…we do not accept the view that regulators lacked the power to protect the financial system. They had ample power in many arenas and they chose not to use it. To give just three examples: the Securities and Exchange Commission could have required more capital and halted risky practices at the big investment banks. It did not. The Federal Reserve Bank of New York and other regulators could have clamped down on Citigroup's excesses in the run-up to the crisis. They did not. Policy makers and regulators could have stopped the runaway mortgage securitization train. They did not…Too often, they lacked the political will – in a political and ideological environment that constrained it – as well as the fortitude to critically challenge the institutions and the entire system they were entrusted to oversee."
The words above from the FCIC also perfectly describe what just happened in Congress and the Oval Office. Citigroup snuck its deregulation legislation into the $1.1 trillion Cromnibus spending bill that will keep the government running through next September. (It's called Cromnibus because it's part Continuing Resolution or CR and part omnibus spending bill.) Just as the FCIC wrote about the reasons for the financial collapse, Citigroup was able to pass this outrageous deregulation legislation because the majority of Congress and the President "lacked the political will" and the "fortitude to critically challenge the institutions and the entire system they were entrusted to oversee."