UFOs & The Deep National Security State
THE MOST EXPLOSIVE EXPOSE ON SECRECY YOU WILL EVER SEE
PRESENTED BY DR. STEVEN GREER
---
This 4 hour workshop will include:
How is secrecy maintained through the hybrid of corporate and government programs?

Which military bases and facilities and which corporations are involved?

How is black-budget and criminal activity funding these operations?

The Connection between the financial system , UFO technology, drug-running and covert military airspace and bases

Where are the key Underground Bases (UGBs) and how are they connected via subterranean tunnels ?

Who has been involved in managing this secrecy and how is that entity (MAJIC) controlled and operated?

How do Unacknowledged Special Access Projects (USAPs) operate and how are they kept secret from the people, the President and Congress?

The History of UFO secrecy since WW II and how it has devolved into its own illegal trans-national cartel.

See explosive documents on secrecy, how human military

controlled "Abductions" are "stage-crafted" and what is the agenda for this Deception.

What is the future agenda for the cartel managing UFO secrecy-and how you need to prepare for this future!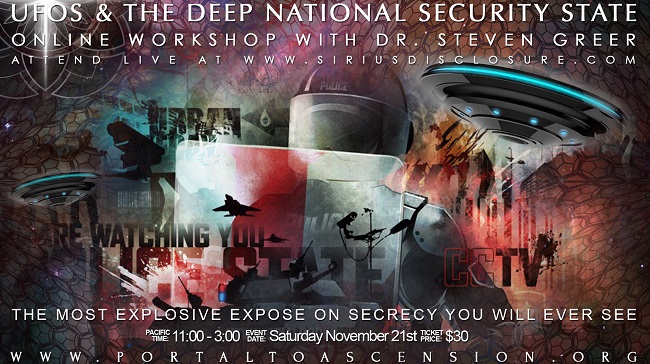 ---
****REPLAY AVAILABLE IF YOU CAN'T ATTEND LIVE****
---
Join Steven Greer Live on November 21st, 2015
2:00 pm – 6:00 pm New York Time (EST)
11:00 am - 3:00 pm California Time (PST)
7:00 pm - 11:00 pm London Time (GMT)
---
****REPLAY AVAILABLE****
IF YOU ARE UNABLE TO ATTEND THE DAY OF THE WEBINAR, YOU CAN STILL REGISTER AND RECEIVE THE REPLAY LINK ONCE THE EVENT IS OVER