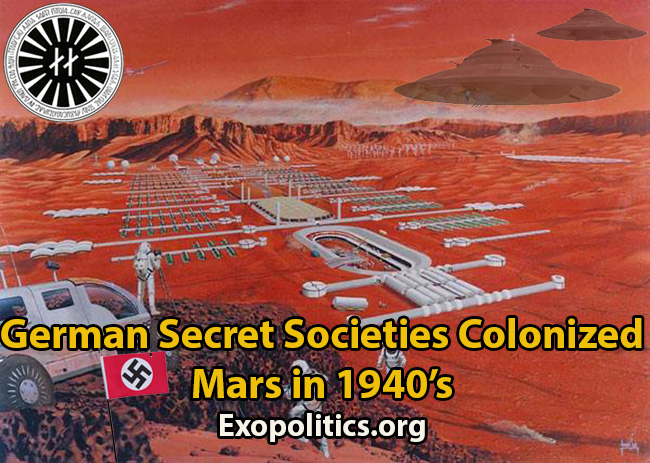 In his latest interview on Gaiam TV's Cosmic Disclosure, whistleblower Corey Goode describes in detail the attempts by a secret German space program to establish bases on Mars during the Second World War era. He claims that during the subsequent colonizing effort, the Germans fought fierce territorial battles with resident Martian species that inhabited large lava tubes that ran throughout Mars subterranean regions.
Goode says that during the early 1940's, while the Second World War was still being fought, German secret societies –Thule, Vril and Black Sun – had successfully established a base on the moon, and used that as a launching pad for missions to Mars. Travel time between the Moon and Mars was several hours for the Germans. Goode contrasted this with the contemporary secret space program which has cut this travel time down to a matter of minutes!
Goode describes information about the early German colonization events acquired from "smart glass pads" he had access to during his space service as an "intuitive empath" from 1987 to 2007. He says that German documents and photographs, detailing these Moon and Mars missions, were archived on the smart glass pads.
Goode previously described the power of the German secret societies in Hitler's Germany. The Thule, Vril and Black Sun societies had created a space program that was wholly independent of the Nazi SS effort to weaponize flying saucers for the war effort.
Continue reading at ...... http://exopolitics.org/german-secret-societies-colonized-mars-in-1940s/