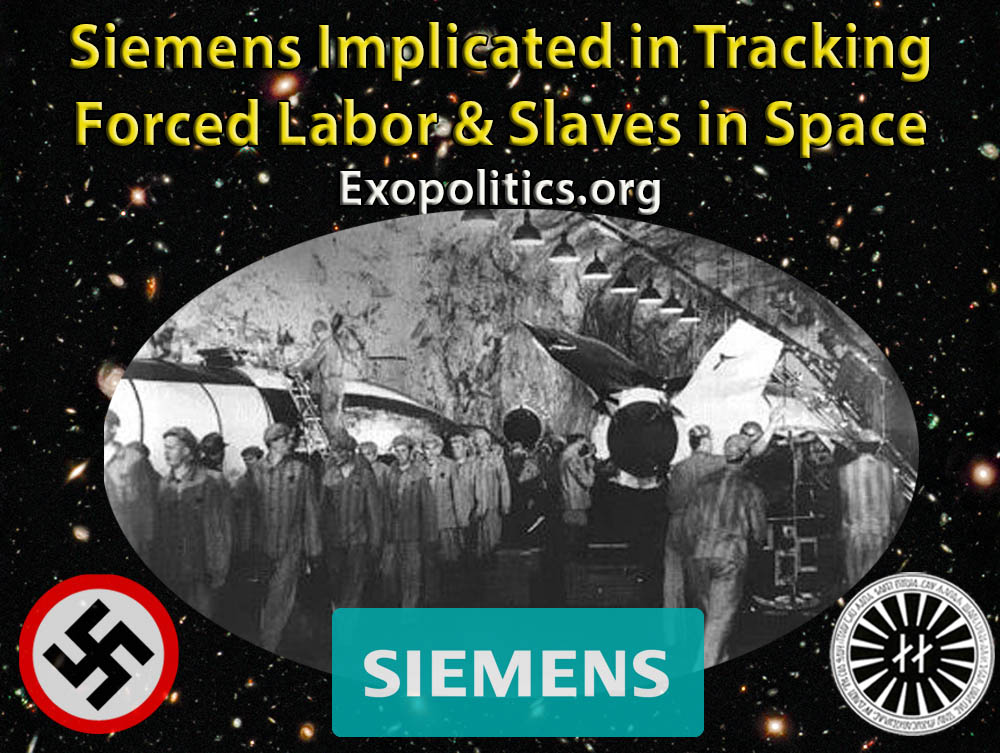 An immoral past follows the Siemens multinational corporation, currently Europe's largest engineering company, which assisted the Nazis by using slave labor to build advanced weapons during World War II. The collapse of Hitler's Third Reich put an end to a dark chapter in Siemens past – according to conventional historians. Not so, according to the claims of two whistleblowers whose testimonies lead to a disturbing conclusion. Siemens has been involved in secretly building billions of tiny RFID chips to track the movement of abducted humans used as forced labor in secret space colonies and in a galactic slave trade.
Siemens' role in helping Nazi Germany build advanced weapons for the Second World War is well known, but less known is the extent to which it participated in the use of slave labor. On September 24, 1998, Siemens decided to begin compensating victims of its former slave labor practices as the following Associated Press Report describes:
Siemens announced plans Wednesday for a $12-million fund to compensate former slave laborers forced to work for the firm by the Nazis during World War II…. Almost a year ago, at its 150th anniversary celebrations, the company had insisted that it could do no more for its former slave laborers than express "deepest regrets." The Munich-based Siemens said its fund is in addition to the $4.3 million it paid to the Jewish Claims Conference in 1961 and to providing humanitarian help for victims. Siemens estimates that between 10,000 and 20,000 slave laborers worked in its wartime factories.
Siemens' role in acknowledging its wartime use of slave labor and efforts to compensate victims is praiseworthy. However, the acknowledgement came forty years after the events in question, and leads to troubling questions over whether the company was sincere or simply wishing to avoid class action lawsuits then underway in the United States:
Continue Reading at .... http://exopolitics.org/siemens-implicated-in-tracking-forced-labor-slaves-in-space/