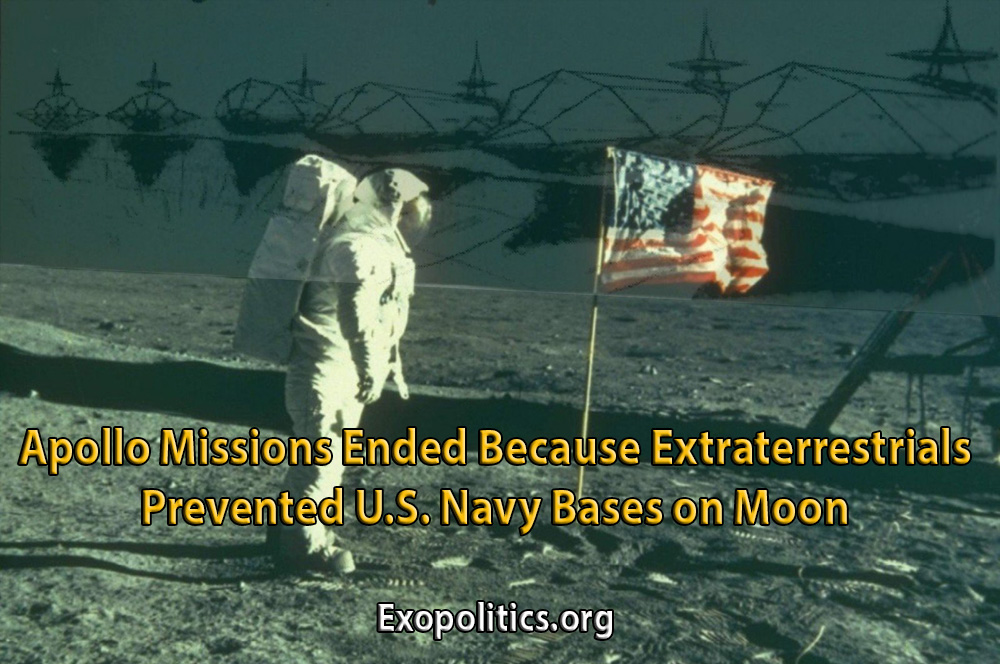 Written by Dr Michael Salla on
The U.S. Navy planned to put 10,000 people on the Moon in the early 1970's as part of a secret lunar bases program that was to be established through the NASA Apollo program. According to William Tompkins, a top aerospace designer who worked for major NASA corporate contractors during the Apollo era, the covert Navy plan came to a crushing end during the Apollo 11 mission when Neil Armstrong and Buzz Aldrin were met by a fleet of menacing extraterrestrial spacecraft.
Tompkins' account of what really happened on the Moon is explained in his recently published autobiography, Selected By Extraterrestrials. At the time of the Moon landing, Tompkins worked for TRW, a leading aerospace corporation that built the first NASA satellite, Pioneer 1.
TRW was responsible for a range of critical components used in Apollo spacecraft, and its personnel were in the operations center for Apollo missions. Tompkins was a TRW employee from July 1967 to March 1971, and describes his role in helping design the Launch Operations Center at Cape Canaveral, Florida.
Earlier, during the final two years of his 12 year employment at the Douglas Aviation Company (1950-1963), Tompkins' innovative designs for planned Apollo missions had greatly impressed Dr. Kurt H. Debus. In July 1962, Debus had become the first Director of NASA's Launch Operation Center (renamed the Kennedy Space Center after the JFK Assassination), a position he held until his retirement in November 1974.
In 1963, Debus appointed Tompkins to a Working Group for the future Launch Operations Center. The two held many confidential meetings over the future of the Apollo program, and discussed its real mission as part of an ambitious Navy space program called "NOVA" for secretly establishing military garrisons on the Moon, Mars and nearby star systems.
The Apollo Moon landings were only the first stage of an ambitious four stage plan for NOVA. Stage 2 of NOVA was to put 10,000 people on the Moon. Stage 3 was to place bases on Mars and other planetary bodies in the Solar System. Finally, Stage 4 was to place manned Navy bases in 12 adjoining star systems.
Continue Reading at ..... http://exopolitics.org/apollo-missions-ended-because-extraterrestrials-prevented-us-navy-bases-on-moon/