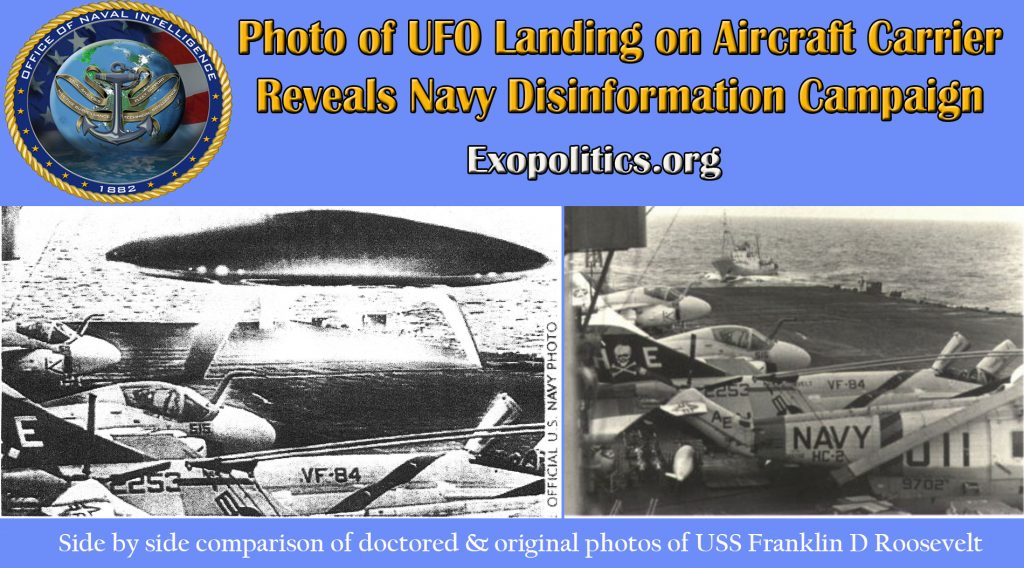 There has been an important breakthrough in the investigation of the authenticity of a photo showing a flying saucer landing on an aircraft carrier that was obtained by Navy Commander Graham Bethune (now deceased), and first publicly released in 2008 by his associate, Frank Chille. Bethune's photo was discussed in a May 4 interview on Rense radio featuring William Tompkins, and was analyzed in an exopolitics article published on May 11.
An official US Air Force photo of the flight deck of the USS Franklin D. Roosevelt from April 1975 closely matches the configuration of aircraft found in Bethune's photo. There is clear evidence that the 1975 photo was altered to produce Bethune's photo. The origin and chain of custody of Bethune's photo suggests it was part of an officially sanctioned Navy disinformation campaign around the issue of flying saucers landing on U.S. aircraft carriers.
First some background. The 1975 USAF photo was released by the U.S. Air Historical Support Office and published in the 2002 book, American Military Aviation: The Indispensible Arm. It shows a Soviet intelligence ship approaching the USS Roosevelt, which was stationed in the Mediterranean Sea at the time.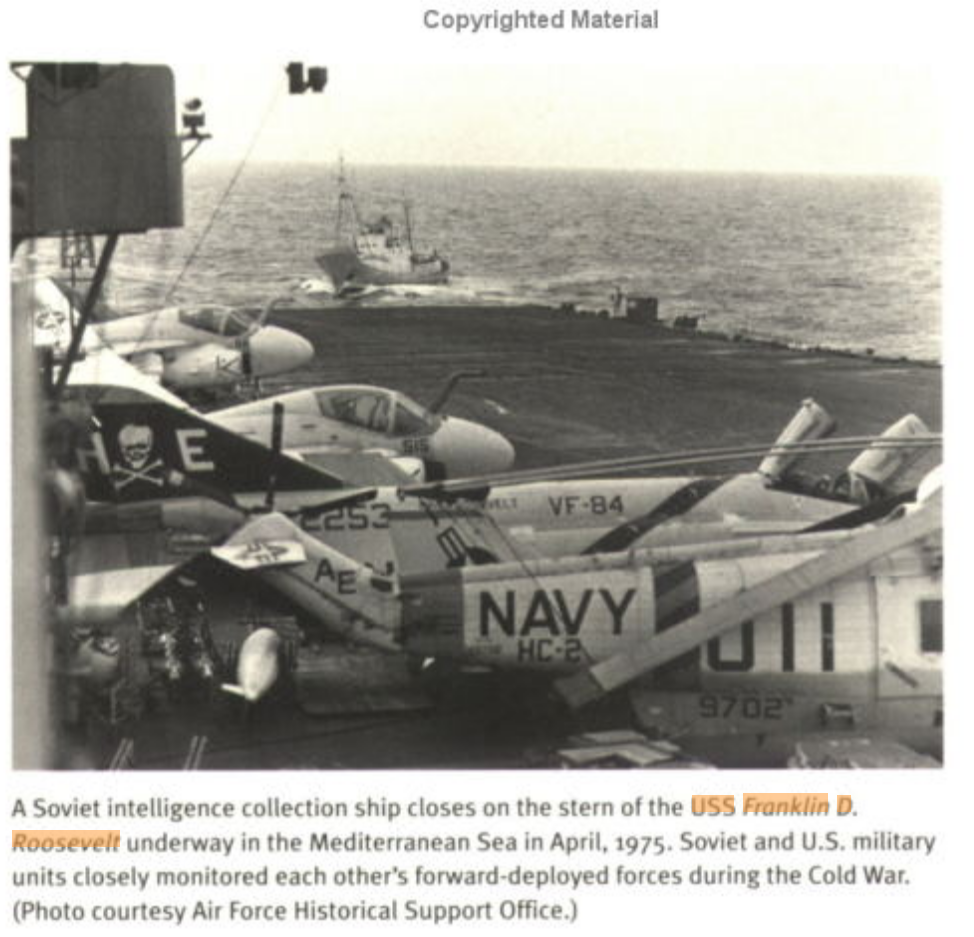 The chronology of the flying saucer landing on the aircraft carrier photo released by Bethune is given by Chille, who says he obtained a copy from Bethune around the year 2000:
Graham had told me that all his photos were hand delivered to him personally by Admiral Delmar Fahrney. I had the distinct impression that I was one of very few whom were ever shown these photos by Graham Bethune. Graham never published any of the photos he had shared with me and he never told me not to share this photo with anyone. Graham did say to me at many meetings that Admiral Fahrney was very aware of the Visitors and the craft they employed. They had ships of all sizes and description and some were enormous in size. [Email 5/13/16]
It's important to emphasize that according to Chille, the photo possessed by Bethune was given to him personally by Rear Admiral Fahrney sometime before that latter's death in 1984, and then later passed on to Chille in 2000. Bethune never publicly released the photo, and passed away on October 30, 2006. Chille publicly released it for the first time in 2008 via the CNN website. Chille later passed on the photo to Major George Filer who released it in one of his Filer Reports on November 2012. Finally, it was released online by Rense for his radio interview with Tompkins on May 4, 2016.
Read full article at ...... http://exopolitics.org/photo-of-ufo-landing-on-aircraft-carrier-reveals-navy-disinformation-campaign/