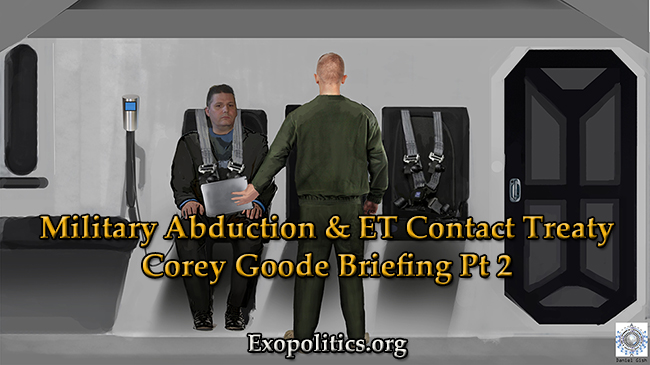 [Continued from Part 1] At the same time the Soviet Union had deployed Cosmospheres in the 1970's that competed with the National Reconnaissance Office and USAF for domination of the space around Earth, the U.S. Navy was developing its own secret space program called Solar Warden, which used huge cigar shaped spacecraft equipped with antigravity and temporal technology for distant off world operations.
Former aerospace engineer, William Tompkins, has disclosed that he provided the initial designs for these kilometer long secret space craft in a secret think tank at Douglas Aircraft Company in the 1950's. According to both Corey Goode and Tompkins, Solar Warden became operational in the 1980's and was highly compartmentalized, and therefore unknown to most USAF Space Command/NRO/Defense Intelligence Agency (DIA) personnel who were told the vehicles in deep space or remote locations like Antarctica they were monitoring were merely prototype craft being tested.
Goode additionally explains that most NRO/USAF Space Command/DIA personnel are unaware of the Secret Space Program Alliance (an alliance between the Solar Warden program defectors from other secret space programs), whose operations Goode has been disclosing since late 2014.
Apparently, some of the intelligence released by Corey Goode over the last 18 months about secret space programs, was accurate enough to come to the attention of the "lower level secret space program," as he described it, run by the NRO/USAF/DIA. Subsequently, he was subjected to a military abduction by one or more of these agencies, which he briefly described in his May 14 update:
Military abductions conducted by operatives of one or more unacknowledged programs occur. Chemical interrogation tactics are implemented. Body fluid and hair samples were taken, words and phrases were read off of a tablet to attempt to ascertain if I was a current asset of a known UNSAP [Unacknowledged Special Access Program].
While briefing me on June 15, Goode stated that he experienced a total of three different military abductions on a spacecraft that was clearly less advanced than those belonging to the SSP Alliance. The abductions happened just prior to or during the month of March 2016.
I asked Goode why he wasn't protected by the "Sphere Being Alliance" (advanced extraterrestrials belonging to a Type III civilization), since they had previously intervened during an alleged incident on Mars that he described in a report back in June 2015.
Continue Reading at ..... http://exopolitics.org/military-abduction-extraterrestrial-contact-treaty-corey-goode-briefing-pt-2/