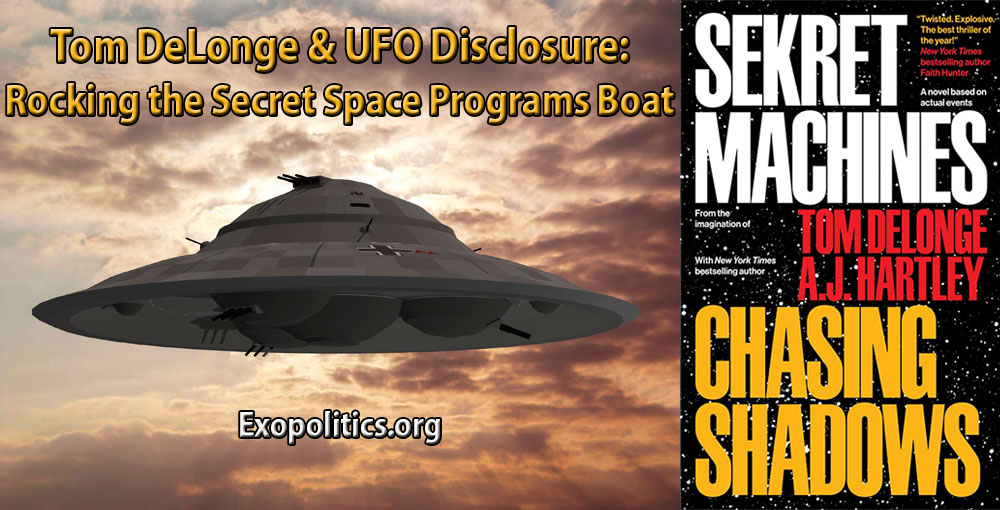 Rock star Tom DeLonge co-authored the book, Sekret Machines: Chasing Shadows, which is the first in a multimedia series of books and documentaries promising to blow the lid off a cover up of Secret Space Programs and the UFO phenomenon. A close reading of the "fiction based on fact" Sekret Machines, suggests that what it more accurately does is expose the reader to the first level of a multilayered set of Secret Space Programs.
DeLonge, a former lead vocalist for Blink 182, is the creator of the Sekret Machines multimedia disclosure initiative, and has enlisted top writers such as A.J. Hartley and Peter Levenda to co-author up to six books. In the preface of Sekret Machines and interviews, Delonge describes how he is being helped by a team of ten advisors with direct links to corporations and Department of Defense entities involved with the U.S. development of a secret space program, and knowledge of a similar program simultaneously developed in Russia and the former Soviet Union.
Continue Reading at ..... http://exopolitics.org/sekret-machines-the-secret-space-programs-onion/
************************************************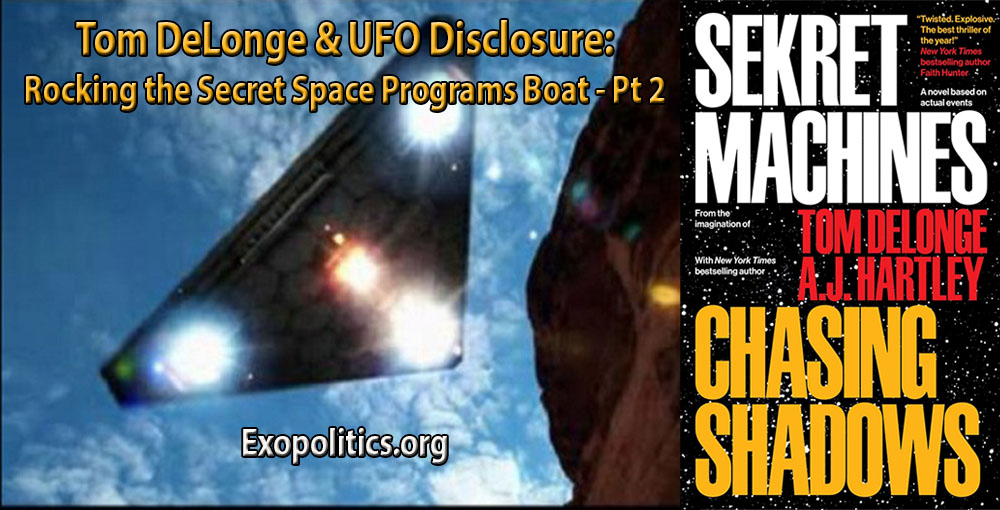 [Click for Part 1] In Sekret Machines, Tom DeLonge spends much time describing the corporate involvement in developing a secret U.S. space program. According to him, a global consortium of corporations secretly funded the development of flying triangles using antigravity and torsion field principles adopted from the Nazi Bell experiments.
These resulted in the development of a squadron of TR-3B's based out of Area 51's highly secretive S-4 facility at Papoose Lake. The U.S. Air Force Space Command and Defense Intelligence Agency is in charge of the TR-3B or 'Locust', operating out of S-4, according to Delonge, as relayed by his advisory team.
Delonge went on to explain in Sekret Machines that the TR-3B is a combined U.S. military and corporate made aerospace vehicle capable of operating both near the Earth's surface as a conventional aircraft, and in near Earth orbit as a spacecraft. He described different sized Locust vehicles, with the largest being several hundred feet across.
Con

tinue Reading at .....

http://exopolitics.org/tom-delonge-ufo-disclosure-rocking-the-secret-space-programs-boat-pt-2/