The following article is part#3 of a 4 part series by Dr. Michael Salla. This information will be part of Corey Goode's and David Wilcocks upcoming intel dossier known as End Game Part#3.
Michael Salla's Part #1 - "US Air Force Officials Investigate Claims of Secret Navy Space Program" - Link Here
Michael Salla's Part #2 - "Secret Presidential Memorandum issued to Declassify Anti-aging & Free Energy Technologies" - Link Here
Michael Salla's Part #3 - "Antarctic Ice Shelf Destabilized as Race for Ancient Alien Artifacts & New Weapons Heats Up " - Link Here
~ascensionwithearth.com
**************************************************************************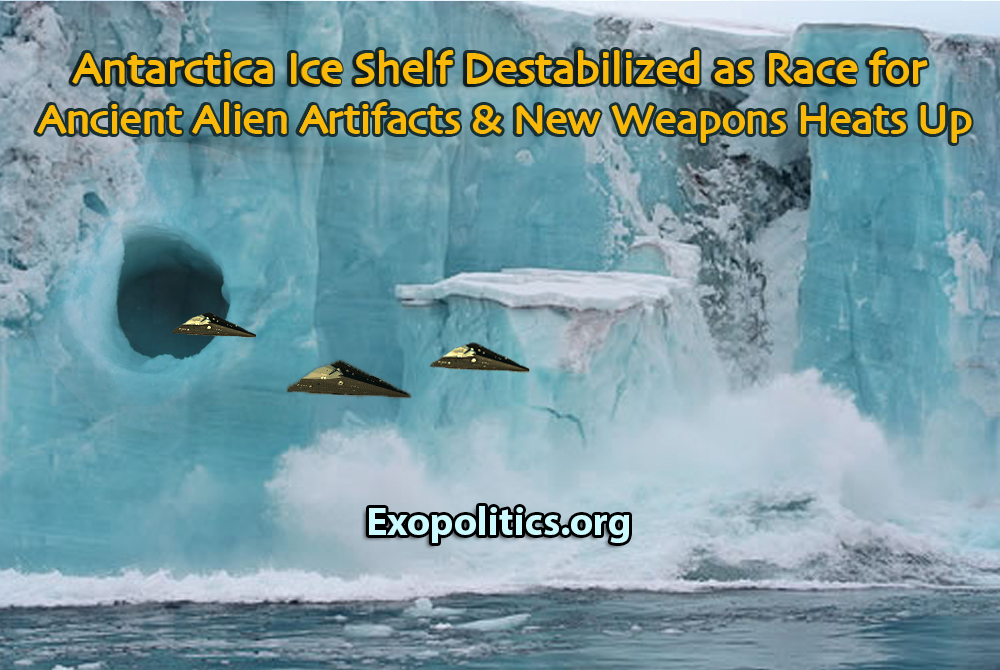 Antarctic Ice Shelf Destabilized as Race for Ancient Alien Artifacts & New Weapons Heats Up
By Dr Michael Salla and Corey Goode
A multinational effort to excavate key regions of Antarctica in search of artifacts from a flash frozen alien civilization created by refugees is destabilizing the continent's massive ice shelves, according to secret space program whistleblower Corey Goode. He furthermore reveals that secret military bases in Antarctica are using some of the artifacts for weapons development in violation of the 1959 Antarctic Treaty, which stipulates that the continent's resources will be only used for scientific purposes.
This article is the third in a series [click for Part One and Part Two]. Corey's written contribution to this final installment has led to it being our first collaborative writing venture. To identify who is writing for the reader, I [Michael Salla] will take the role of the narrator and distinguish when Corey is directly contributing in his own words, as opposed to me paraphrasing his briefing material.
Disclosure of the Antarctica ruins is still imminent, Corey reports, as a number of key variables impact on when and how much is to be revealed to the world about the discoveries while maintaining secrecy about the ongoing military programs to weaponized alien artifacts.
In a detailed briefing given to me on March 16, 2017, Corey shared additional details about the "Pre-Adamite" civilization supplementing the data he previously put out. This new information was originally slated for release in an article, "Endgame III", as the sequel to the popular Endgame II article and video which focused on secret Antarctica excavations.
Corey said earlier that the extraterrestrial civilization, identified by him as Pre-Adamites, first arrived 55,000 to 60,000 years ago and established outposts all over Antarctica which notably has a land mass almost twice the size of the contiguous United States. He described them as standing approximately 12-14 feet in height and possessing elongated skulls.
Corey also described how they created a hybrid species, Homo Capensis according to anthropological classification), which became ruling elites, or demigods, in ancient South American, Asian and European societies.
In the March 16 briefing, Corey began by explaining that the Pre-Adamites had established their main base right over "Ancient Builder Race" technology, which included a "stargate" or "wormhole" device very similar to that depicted in the popular Science Fiction show, Stargate SG-1.