Cosmic Disclosure: Viewer Questions 11: Preparing for Ascension
Season 8, Episode 8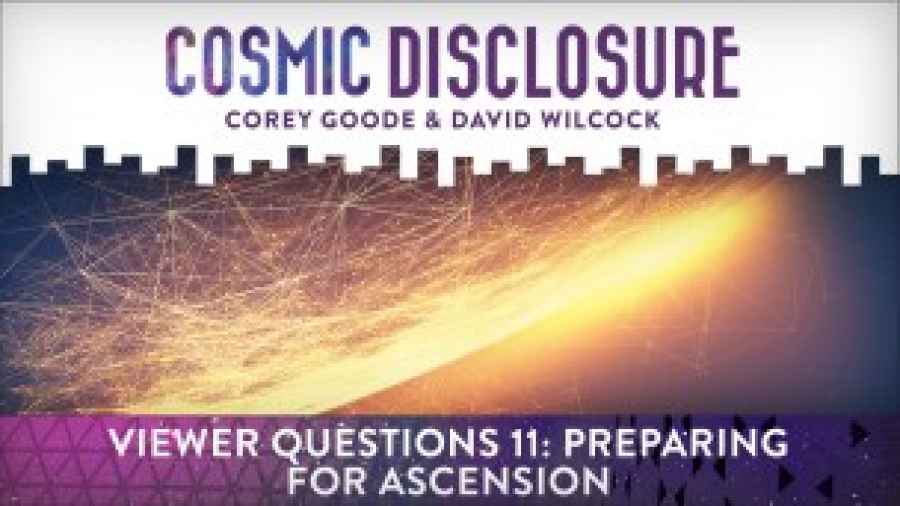 David:
Let's just hit the ground running here. First question we have is:
"Corey, what is your personal opinion of what the Ascension event will be?"
You and I have talked about this, and some of the things that you've been told are pretty different from what my own ideas or theories have been.
Corey:
Yes. Yeah, that's a good question. The way it's been explained to me, what's going to occur is that when this energy shift occurs, and we fully have the brunt of these cosmic energies interacting with our consciousness, we're going to undergo a consciousness Ascension more than anything in the beginning, that it's going to be a great leap in consciousness. Just the way we perceive everything is going to change.
Now, as a result of that, we start learning more about our co-creative consciousness. We learn how to manipulate matter. We learn how to . . . We gain the ability to read each other's minds, I guess, to communicate that way.
So a lot of wonderful changes do occur, but not in so much the twinkling of an eye, the way I've heard in many different religious beliefs.
David:
Well, we are also talking about a solar flash, though, right?
Corey:
Correct.
David:
So how would that factor in?
Corey:
I see the solar flash as being . . . and it's not A solar flash. They are SOLAR FLASHES. It's not just one, all of a sudden, boom, there's going to be a solar flash.
There's going to be poof, poof, poof – flash events that they SAY will lead into a full circumference mass coronal ejection.
David:
Right.
Corey:
Now, if they're correct – and that's what it looks like – then here on Earth, we're going to be hit with this energy very quickly. And we're already going to be bathed in this cosmic energy that Tier-Eir's people have been buffering from us with these Blue Spheres.
So what I'm told by these beings is that this energetic flash is going to be more of a . . . it's going to affect our consciousness more than anything else.
There are going to be physical things that occur. The fact is that that's what Mica's people went through as well.
Our Earth is going through the final transition into fourth density, and there are growing pains, things happening. And that's just what we have to expect and watch for to see and know what's happening.
Now, the energetic changes and the flash are supposedly going to affect our consciousness and cause us to go through a major consciousness boost, which will then lead to us going through a consciousness renaissance, like Mica's people.
They're not all rainbow people flying around on this planet. And it's taken them a while to get to where they are after their event.
David:
Right. So you're seeing that there WILL be some very big shakeups on the surface. Would that include the failure of all electromagnetic devices that some insiders have suggested?
Corey:
That would definitely occur during these solar events, these solar pulses that would happen, yes. That's fully expected.
David:
So there would be a need to be able to weather through that, the loss of electricity.
Corey:
Yes. Yeah. Yeah. You need to be . . . Yeah, that's definitely something that's going to occur.
They expect it's going to basically wipe out the AI influence that is REALLY still a major problem. It's one of our biggest problems.