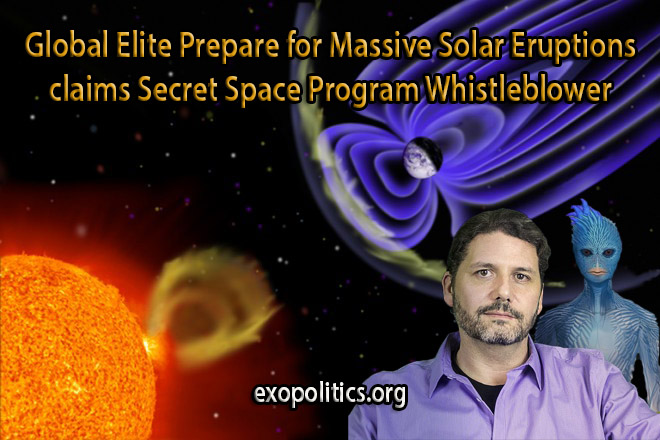 Corey Goode yesterday released the first of a
two-part report
discussing his latest alleged meetings with different extraterrestrial civilizations and representatives of secret space programs. In it, he discusses some disturbing information about elite preparations for upcoming solar events that they believe will have devastating planet-wide effects.
In
his report,
Goode begins by filling in the details of what has taken place since a resumption of meetings after a lengthy hiatus, which he briefly discussed
on August 1.
He also discussed some of the ramifications of his
personal briefings
and a
Cosmic Disclosure
interview concerning a covert aerial tour he was given of six hidden Antarctica facilities belonging to the Interplanetary Corporate Conglomerate (ICC) – one of five space programs he has previously disclosed information about.
For those unfamiliar with Goode's revelations and interviews, his latest report appears fantastic. There is, however, compelling whistleblower, documentary and circumstantial evidence supporting his claims. Much of this was presented in the book,
Insiders Reveal Secret Space Programs and Extraterrestrial Alliances
. Since its September 2015 publication,
William Tompkins,
a highly respected aerospace engineer, has come forward to reveal his own testimony, supported by official documents, which corroborate many of Goode's claims.
In his August 16 report, Goode said that Kaaree, a representative of the Inner Earth Civilization called the Anshar had given him, via a telepathic etheric link, some updates about recent events after his return from a June trip to Boulder, Colorado:
In these briefings she learned that our recent reconnaissance flight into the icy caverns of Antarctica had highly disturbed the individuals who are responsible for security at these installations. They were most shocked that their advanced technology did not detect the presence of the Anshar-Bus Craft. This not only had a psychological impact on those who work at these facilities but it was communicated to me that specific areas under the ice were made public – ancient sites that are fairly significant on a number of levels.
The Sphere Being Alliance had helped the Solar Warden/Secret Space Program Alliance upgrade their
defensive weapons technologies
. It's not clear if the Anshaar had likewise benefited, but their secret surveillance of Antarctica facilities clearly caught the ICC off-guard.
Continue Reading at....
http://exopolitics.org/global-elite-prepare-for-massive-solar-eruptions-claims-secret-space-program-whistleblower/